DROWN DUNKS LAKEVILLE'S BIG 4 FIELD FOR VICTORY


Lakeville, Ohio Friday, July 2, 2004

By Mike Swanger

Round two of the American Payroll Advance Big 4 Series for the Super Late Models had 35 cars on hand for the 40 lap event
in front of a big crowd at Lakeville Speedway on Friday night. Eric Myers bolted into the lead from the pole and set the pace for
the first six circuits when Wooster's Doug Drown took over and from that point on, the Wooster Glass, American Payroll Advance
and Malcuit Engines #12 was untouchable, winning by a half a lap. Myers went from first to fourth in four laps as Tom Baker
motored past on lap seven for second with J.R. Gentry getting by Myers two laps later for third. Baker and Gentry dueled it out
for second the last 25 laps with Baker winning that war as Gentry could never get by despite pulling along side Baker a couple
of times. Myers meanwhile staved off Jason Flory to hang on to fourth. Last years series winner, Mike Mizer started 19th
and worked his way to sixth as the checkered flag waved. Round one winner and co-leader in the points, Rick Bond
struggled to a 13th place finish while Charlie Duncan suffered a flat tire just past halfway and claimed ninth.
Heat winners were Bond, Allan Baker, Mike Lonas, and Tom Baker.
Two last chance races were run with Wes Morrison Jr. and Scott Bowersock capturing those.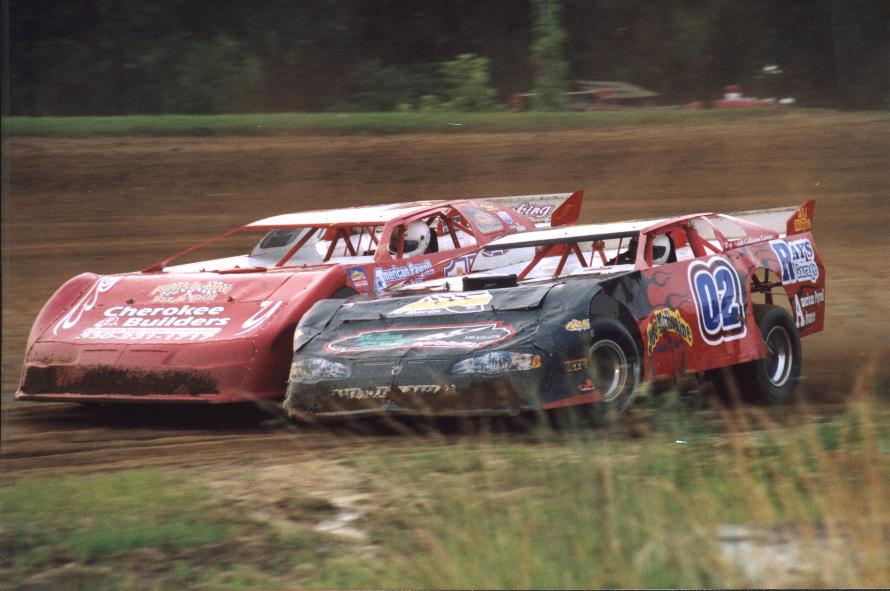 How close can you race and never touch,,,
If any one person has Lakeville figured out, it has to be Duncan. It just doesn't matter where he starts but you can be sure where he will finish.
Kudos to Jason Flory also, he's been racing around the tri state region and his racing program has come full circle.
I won't be surprised when he rolls into a winners circle.
AMERICAN PAYROLL ADVANCE SUPER LATE MODELS
Heat 1 Rick Bond, Jason Flory, Charlie Duncan, Wayne Maffett Jr.

Heat 2 Allan Baker, Doug Drown, Dave Hornikel, Wes Morrison Jr.

Heat 3 Mike Lonas, J.R. Gentry, Gary Hensel Sr., Randy Scott
Heat 4 Tom Baker, Eric Myers, Skip Watterman, Scott Bowersock
'B' #1 Morrison Jr., Maffett Jr., Mike Giess, Benny Lester, Kristin Flory,
Mike Mizer, Jeff Wages, Josh Caster, George Delaney, Jason Hinton, Mark Gardiner
'B' #2 Bowersock, George Lee, Scott, Eric Eicholtz, Mark Smith, Eric Smitley,
Jeff Esbenshade, Mike Winters, Jeff Hamby, Clint Coffman, Mike Stiltner, Jim Cushing
FEATURE
Drown, T. Baker, Gentry, Myers, J. Flory, Mizer, Hornikel, Lee, Duncan, Bowersock,
Morrison, Lonas, Bond, Watterman, Giess, Scott, Hensel Sr., A. Baker, Maffett Jr.